Before you can even think about investing in your next rental property you'll need either the full cash input or a large deposit, right?
Wrong! One of the great things about some of the deals we can offer you is an ability to invest in UK property with a low deposit and no mortgage.
If you're an overseas investor who might struggle to get a mortgage in the UK, or you're an investor who doesn't have a lump sum of money, but do have disposable monthly income that you want to make best use of, this could be the perfect solution for you.
Let me explain how it works…
Suppose we have found an empty office building in a good rental location with planning permission already in place.
Our developer plans to convert this building over the next 18 months into 60 new residential apartments.
For sake of brevity, let's assume they are all 2 bedroom units and offered to investors 10-15% below market value at £100,000 each
They offer us two ways to get involved:
Option 1 – 0% Payment plan and mortgage option
You pay a small 3% deposit to secure an apartment (which would be £3,000 in this example)
Then, you set up a payment plan with the developer and pay off 30% of the balance in 18 monthly instalments at 0% interest. So in this example that would be about £1,600 per month
A few months before completion you arrange a mortgage for the remaining 70% balance
On completion of the property, tenants are placed and your rent is underwritten by an independent management company
Option 2 – 0% Payment plan and no mortgage option
Like the first option, you would pay a small 3% deposit to secure your apartment
Then, you set up a payment plan with the developer to clear 50% of the balance in 18 monthly instalments at 0% interest. Working out to about £2,700 per month in this example.
On completion, tenants are placed and you then use your underwritten rental income to repay the developer the remaining 50% over the next 5-7 years, also interest free.
Once repaid, you own the property outright which can be kept for income or sold on for a profit
What I like about this type of deal
The developer has a vested interest in receiving their money in both options which forces them to select the development locations carefully and with a long term view in mind. They also retain 20-30% of units in their buildings to sell on completion which shows they have confidence in what they're selling
If it would take you 18 months to save up a big enough deposit to put down on a property anyway, then this option allows you to start enjoying the benefits of property ownership, such as price growth, ahead of time. Additionally, with the initial 10-15% discount you're locking in profit from day one.
You pay 0% interest
Although nothing is ever 100% guaranteed, if the rents are being underwritten by an independent management company then this provides additional security and peace of mind on the income
If opting for the 'no mortgage' option, any annual rental rises would reduce down the repayment time
You are given the registered title deed at the land registry on the property as your security
The developer has a track history in the UK property market dating back to the early 1990's
Things I would take into consideration
If you take out the no mortgage option then you won't get any income from the property until the balance is repaid, but you would still save a small fortune in mortgage interest and arrangement fee's, plus benefit from any growth in the property's value
Like any property purchase you'd still need to cover management fees, service charges and ground rent, although these costs are generally quite minimal.
The projects are off-plan but as the developer only takes on existing buildings and uses permitted development rights in most cases, this minimises risk of development delays. All development contracts also have step in rights and performance bond insurance. This means if the contractor/freeholder went bust, the insurance provider is then legally obligated to step in and find another contractor to complete any remaining work.
The repayment plans are with the developer directly and unlike a mortgage lender these are outside the remit of the Financial Conduct Authority. That means you wouldn't be entitled to any compensation if the developer went bust. However, it is worth pointing out that a solicitor is in place to handle initial repayment monies, and investors are also given the title deeds to the property on development completion
Want to find out more?
Availability is always changing and the best way to find out more is to get in touch and request our latest available prospectus.
To save any disappointment, before you do get in touch make sure you are OK with the following:
Monthly plans start from around £1,500 per month – so you'll need at least this in disposable monthly income
You'll need a small reservation deposit of around £3,000 (this is deducted from the purchase price at completion) and around £850 to cover legal fee's
You're flexible with locations and open to new areas (these deals are typically only available around the West Midlands area)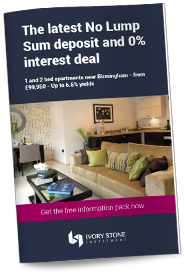 Get access to the latest "No Lump Sum" deals, available right now!
Click the 'register your interest' button below, fill in your details and we'll email you the full prospectus and information on the latest available projects